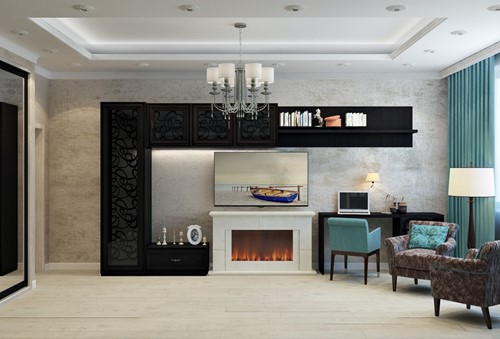 A fireplace mantel can enhance the appearance of your living room or den while also giving you a place to decorate and display items. While some fireplaces come with mantels, others don't have one. If your fireplace doesn't have a mantel, you're not out of luck. With a few tools and materials, you can build your own fireplace mantel. Whether you're a DIY beginner or an experienced one, these mantels are fairly simple projects to tackle. Use the following ideas to help you decide how you want your fireplace mantel to look.
Live Edge Wood Mantel
Live edge wood offers an outdoorsy look that includes the outer parts of the tree trunk it's made from. This type of wood provides a more naturalistic appearance compared to more streamlined or polished pieces of wood. You can place a live edge wood mantel over a plain white stone fireplace to spruce up its appearance, or put this type of mantel above a brick fireplace for a more rustic look.
Enlarged Fireplace Mantel
Does your fireplace have a mantel that's too small? If you want a longer fireplace mantel that provides additional space for decorating or displaying items, you can easily build one on your existing mantel. This involves placing a longer piece of wood on the current mantel, then painting or finishing it so that it matches. For example, you might paint the longer mantel white to go with a smaller white mantel or use the same color of wood for both mantels. Doing a longer mantel means you don't have to worry about removing and replacing the smaller mantel.
Faux Fireplace Mantel
You don't need to have a fireplace to have a fireplace mantel in your home. You can build a mantel and place it on a wall to dress it up. A faux fireplace mantel is also a good idea if you don't want to install anything above or near your actual fireplace. With a faux fireplace mantel, you can choose the look you want, such as dark wood, light wood, distressed wood or polished wood. You can also choose a different material for this type of mantel based on your design preferences.
Floating Mantel
Your DIY mantel doesn't have to be right over your fireplace. A floating mantel can be placed above your fireplace with a bit of distance in between. This mantel design creates a visually striking look that can make your fireplace a focal point in your living room. A floating fireplace mantel allows you to get more decorative use out of the wall it's on. Depending on the type of visual effect you want to achieve, you can place the mantel a foot above your fireplace or even a few feet over it.